Welcome to Kazakhstan, a huge and unique country in the heart of Eurasia. The team of "Triumph SAT group travel" company invites you to the country of peace and reconciliation, where antiquity coexists with modernity, and Eastern traditions with Western modernism. Modern Kazakhstan attracts a variety of excursions and programs: the famous high - altitude skating rink Medeu, the world's first cosmodrome "Baikonur", the Charyn canyon - fellow American Grand canyon, the ancient cities of Taraz, Shymkent and Turkestan, one of the young capitals of the world Astana, felt yurts, healing kumys, endless steppes.
Kazakhstan will be remembered for its bright and unique culture of nomads. We offer a large number of travel routes across the territory of our country by providing various types of tourism. Kazakhstan is the ninth largest country in the world (2.7 million square meters). The country is located in the center of Eurasia and is bordered by Russia, Uzbekistan, Kyrgyzstan, Turkmenistan and China. Travelers can discover the untouched nature of Kazakhstan: deserts, ancient cities, beautiful, almost Alpine landscapes.
The flora and fauna of Kazakhstan is extremely rich. There are about six thousand species of plants, about 500 species of birds, 178 species of animals, and in rivers and lakes about 100 species of fish. The climate is sharply continental. Political structure: the head of state is the President. The Supreme authority is the Parliament consisting of two chambers of the Senate and the Majilis. Population: Kazakhstan is a multinational state. The population is about 17 million.
Language: the official language of Kazakhstan is Kazakh, which belongs to the Turkic languages. Russian is also used as the official language. Religion: Kazakhstan is a secular state, so religious freedoms for all. Islam and Christianity are the dominant religions. Capital: Astana is a dynamically developing administrative, business and cultural spiritual center of the country. It is located on the banks of the Ishim river, in the Northern part of Kazakhstan, in Akmola region.
Although separated from the region as a city with a special status. Founded in 1830 as a settlement of Akmola (Kazakh: Amali), he served as a defensive fortification for the Siberian Cossacks. Today Astana is quite a large city with an area of more than 200 sq.km. in 1999 Astana received the title of the world City by UNESCO decision. After the acquisition of the capital's status and the organization of the special economic zone "Astana — new city", the city implements many modern architectural and urban development projects.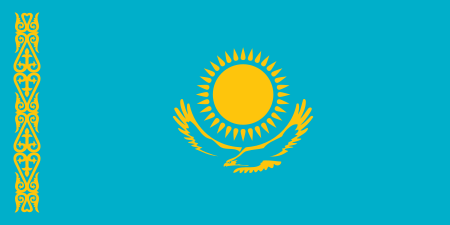 National Currency: Tenge
Time: +6 GTM Astana, Almaty